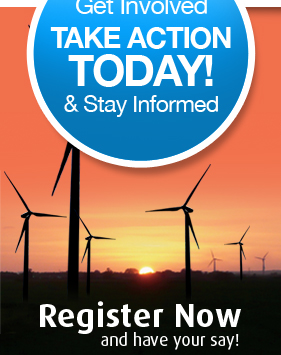 Once registered as a member you
will become part of our confidential exchange forum, you can then keep
up to date with the very latest progress.
Register on our Forum today!


Find out how close each
individual windfarm sites are
situated to your property:
View the full list of planned sites
Click Here

MWAG Picture Gallery shows the extensive visual impacts large scale industrial wind turbines are causing across some of East Lindsey's highly valued stunning landscapes within Lincolnshire.
Wind turbine arrays are even denigrating the prominent position of the Spire of St James Parish Church Louth, has held since the 15th Century particularly from views within the Lincolnshire Wolds Area of Outstanding Natural Beauty.
At 295 feet (90m) tall it has the tallest spire of any medieval parish church in England.
For more information on St James
CLICK HERE
.

Here you can see the catastrophic effects of wind turbines that go wrong!



Pictures from Inspector's Orby Inquiry site visit in Feb this year, on behalf of the Orby Wind Farm Action Group. This is the blimp flying at approx 81m high and all of the turbines in the back ground are off shore!!!