Find out how close each
individual windfarm sites are
situated to your property:
View the full list of planned sites
Click Here
This MWAG stunning montage (full width is 10.4m) is from a view point located on the 'Wanderlust Way Walk' along the eastern escarpment of the Lincolnshire Wolds AONB.
The montage is an accurate depiction of the potential cumulative impacts from all of the wind turbines seen built and in the various stages of the planning system.
The montage on view above, details the wind turbine position at the commencement of the Bishopthorpe Wind Farm Public Inquiry on 15 August 2014. This version was submitted as evidence within MWAG's landscape character and visual impact case at the inquiry.
An earlier version of the Wanderlust Way montage was also integral to MWAG's landscape case at the Louth Canal Public Inquiry held in January 2014, concluding in March 2014. The Inspector and the Secretary of State for Communities and Local Government have dismissed this appeal.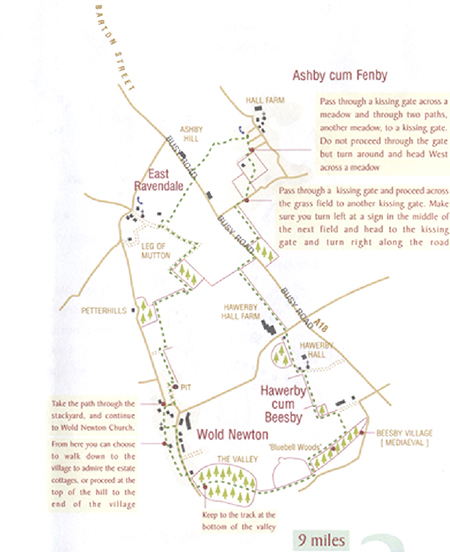 The map above shows the route of the Wanderlust Way which is a popular twenty mile
circular walk starting and finishing at Bradley Woods to the West of Grimsby.
For full details of this walk
CLICK HERE
.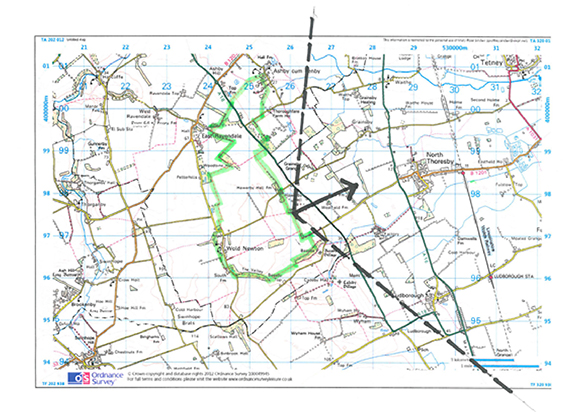 Above is the location and viewing direction of the camera when panoramic picture was taken.
Please click on the panoramic image below to view the large scale version.